Description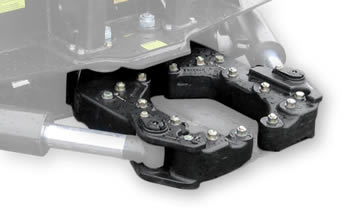 Dymax 14" Ranch Axe Tree Shears for skid steer loaders have ground level cutting and solid cast shearing arms which are 60% stronger than fabricated steel shearing arms. Designed for machines with a minimum of 1,850 lbs of operating capacity, minimum flow rate of 15 gpm.
(Single arm grapple model requires machines to have 2,250 lbs of operating capacity.) Shearing cylinder is rated at 4,500 psi. Equipped with guarded hard line to improve hose protection from abusive elements.
All units include universal mount skid steer coupler hooks that fit most new model skid steer loaders. Tree shears include standard flow flat face couplings.
Options include pushbar, brushguard, single arm grapple.
– Dymax Ranch Axe with Closed Shear Arm 14″
– Shearing cylinder is 5″ barrel with 3″ rod
– Hydraulic fittings and hoses protected
– Improved blade and blade stops
– Shearing cycle is 33% faster
– Weight:1630-1950 lbs depending on model
– Call or click for Shipping Quote
06/11/2015